From the start of the biogas programs in Africa and Asia till early 2020, the uptake of biogas was increasing steadily. Farmers were embracing the renewable energy source and it was a solution to the scarce wood and charcoal and expensive LPG. Likewise, masons were busy constructing bio digesters and biogas marketing officers went door to door to sell the benefits of the technology.
Early 2020, everything changed. Covid19 started to spread in most parts of the world and impacted the health and health systems severely. The subsequent lockdowns also impacted social life and the economy. Businesses were forced to close, the transport industry came to a standstill and for a lot of -mainly poor – people it became harder to secure food and other basic necessities as they lost their jobs.
A sector that has come to a standstill
The impact of Covid19 has been immense on many sectors and the biogas industry has not been spared. New uptake has drastically dropped. In Kenya for instance bio digester construction dropped from an average of close to 70 bio digesters per month throughout 2019 and the first months of 2020 to around 20 in March. In Uganda a similar trend was seen, from an average of 60 per month throughout the same period to around 10 in March 2020.
"Before lock down we could construct more than 30 bio digesters per month [in the Kanungu Hub, Uganda] but now due to the corona virus the market uptake of biogas is very low and is not priority to many farmers in Kanungu hub since they have to spend on food."
Emmanuel Rukwerere, Biogas Marketing Hub Officer at Kanungu Hub
Moreover, those that have endeavored in investing in a bio digester just before Covid19 are now faced with a standstill because they are unable to bear the costs to construct the digester as they saw their income disappearing. Some are now requesting for financial support for either buying appliances or pay for labour, while others just await better times.
Keeping the biogas dream alive despite setbacks
The story of Miss Akiror Stella
One of these people is Miss Akiror Stella, a single mother of three and a pig farmer in Seeta-Bugoba, Mukono district, Uganda. She has for a long time wanted to find a way to reduce energy costs in her home and improve the hygiene in her pig sty. She excavated a 13 cubic meter biogas pit, costing her UGX 200,000 (54$), just before Covid19 hit her country and the lockdown started on March 18th. She decided not to construct the biogas plant but to use her savings to stock enough feeds for her pigs before prices got hiked. Mid way the lock down, she got hit by African swine fever disease which led to a loss of two pigs. She decided to sell the rest of the ten pigs before she could lose them all. Meanwhile, the excavated biogas pit stood out as a pond as well as a breeding site for frogs and a holding tank for stagnant water.
Keeping the biogas dream alive, Stella is now trying to save for the installation of the bio digester. She has also reached out to Biogas Solutions Limited Uganda (BSUL) to support her.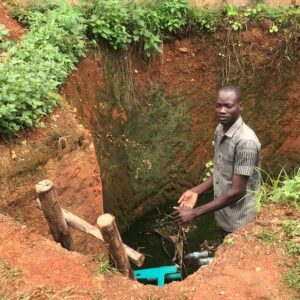 How biogas has helped a farmer through lock downs
The story of Bahati Fuderi
On the other side, farmers who had constructed a bio digester before the Covid19 pandemic have appreciated the benefits, especially during the difficult period. It has offered them an alternative for the scare and expensive fuel for cooking, an organic manure to plants and an extra source of income from selling bio slurry. Bahati Fuderi from Ruhinda, Uganda, is one of these lucky farmers. He testified that biogas was a solution and basic need for his family during lockdown. He spent less and was therefore able to save a lot of money, which he could now spend on food for his family.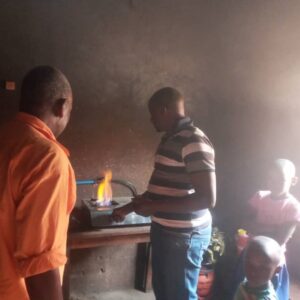 Luckily there are others like Bahati Fuderi. Like Angga Pratama from Indonesia, who changed his career from rafting guide to farmer. Read his story 'From navigating waters to watering plants'
Also Betty Cherop from Kenya was lucky to have bio digester during lock down.
"At this challenging time, having a bio digester has helped me be resilient because I don't have to go looking for firewood or refill LPG as I have a clean source of energy and ready organic fertilizer for my farm"
Read Betty's full story 'A gas and bio fertilizer factory in one'.
Returning to "normal"
Though businesses are slowly returning to normal, Covid19 will have a lasting impact on the biogas sector. The number of constructed bio digesters is slowly increasing again, but as Emmanuel Rukwerere clarifies "not many farmers are willing to invest in biogas since everyone thinks another wave may hit the nation again. Some have already exhausted their savings and need to start afresh." He continues "the environment will continue to be encroached on for their survival in terms of cutting trees for energy not at their will but as the circumstances dictate."
Support farmers!
To support farmers acquiring a bio digester after lockdowns, it is important to pay a better price for the carbon credits. People wishing to help can also make a special donation for the bio digester, for instance in Uganda. Contact our the carbon finance program manager, Harry Clemens at hclemens@hivos.org.