"I didn't know how a bio digester looked like or how it operated. I thought it was something that used electricity" says Betty Cherop about her initial thoughts about a bio digester. Betty Cherop, young mixed farmer in Mombwo village, Bureti Subcounty in Kericho County, Kenya, and member of Cherobu Dairy Cooperative, was soon proven wrong.
The struggle for firewood
Betty had been stressed looking for firewood till 2012 when she invested in a bio digester dome of 10 cubic meters, which gives her more than enough gas to cook on. Previously it was very time consuming and costly to obtain firewood. "My piece of land is very small so I could not plant more trees for firewood" Betty explains.
It's amazing how you can use free cooking gas produced at your farm" 
A new venture
What her land was, however, big enough for was cattle. After some initial hesitations about how to get cow dung for a bio digester, Betty decided to kill two birds with one stone. She invested in a bio digester and bought cows to feed the bio digester and to venture into dairy farming, something that had never crossed her mind before.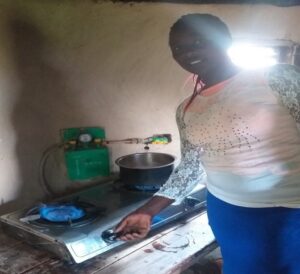 A factory of bio fertilizer
But gas for cooking and a changed career path aren't the only changes noticeable. With continuous field visits by the Kenya Biogas Program Field team, Betty learnt how to effectively apply bio slurry to her farm. "I had never imagined that cow dung would be converted to gas to be used in cooking. I was more interested in biogas but bio fertilizer has overtaken." She remarked. Betty continues: "a bio digester is really rewarding as you are assured of clean source of energy and a factory of bio fertilizer." Her crops are planted purely on bio slurry fertilizer and foliar prepared from bio slurry reducing her cost of production by a big margin. "I have seen a lot of improvements in the crop yields. This saves me on costs of buying chemical fertilizers." Says Betty.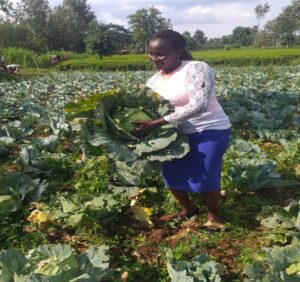 The pandemic
The unprecedented covid-19 pandemic has adversely affected agribusiness. Schools and market which were the main markets for farm produce were closed affecting the household negatively by reducing or cutting the source of income. Betty had to look for an alternative market for her produce. "Our main market is the local community which is not ideal. It is slow since they don't buy in bulk in most cases resulting in irregular and unreliable income." She said.
"At this challenging time, having a bio digester has helped me be resilient because I don't have go looking for firewood or refill LPG as I have a clean source of energy and ready organic fertilizer for my farm'' she said.
For Betty, life has never been the same. She has 3 dairy cows giving her 45 liters of milk which is enough to feed her family and she sells the surplus to the community, herewith earning her income.
Her neighbors really admire her bio digester and what it can do and wish to own one one day. The biggest constraint at the moment is the high upfront cost of installation.
Hivos and the Kenya Biogas Program
Betty Cherop received support from the Kenya Biogas Program (KBP) when installing her bio-digester. The KBP provides bio-digesters to individual households. The program is part of the Africa Biogas Partnership Program (ABPP). ABPP is a partnership between the Dutch government, Hivos and SNV Netherlands Development Organization, in support of national programs in Kenya, Tanzania, Uganda, Ethiopia and Burkina Faso. The overall objective of ABPP is to develop a commercially viable biogas sector that supports the use of domestic biogas as a local, sustainable energy source. Hivos acts as the fund and program manager.